mindfulness: when nothing happens and it's no big deal
You don't have to act crazy anymore— We all know you were good at that, /Now retire, my dear, from all that hard work you do/Of bringing pain to your sweet eyes and heart. /Look in a clear mountain mirror/See the beautiful ancient warrior and the divine elements/You always carry inside -Hafiz
I've been practicing mindfulness now for around 20 years, first a kind of informal practice where I would sit on a cushion at the French windows looking out into the back garden. Day in, day out, winter, spring, summer, autumn; dark mornings and bright mornings, then repeat. After a few years I formalised my practice by taking the Post Graduate Diploma in Studies in Mindfulness through the University of Aberdeen[1].
So, 20 years later and I'm still sitting on my cushion (okay: I admit, I upgraded the cushion, it's a splendid Tibetan black number I bought at Samye Ling) and I'm following the same old practice. At the window: winter, spring, summer, autumn, winter. Rinse, repeat!
At first the results were amazing! I started to experience a crashing waterfall of thinking thinking thinking that I'd never experienced before (in retrospect, I was of course merely becoming aware of the drama which had always been present) -a cavalcade of spectacle, figures leaping up like infernal salmon from my unconscious and I relished each and every opportunity to take part in this internal cinema. Then things calmed, stress fell away and I felt more spacious in my head, more connected to my bodily sensations. At times I felt light, intimate with myself in a way I'd never known.
And then progress stopped.
For about two years now, nothing's happened. I've sat there, on the cushion for nearly two years now getting myself more familiar with…nothing, really. Have I been wasting my time? Think of the books I could have been reading, the films I could have watched, the calls I could have made (though, calling my friends up at 7am might not curry much in the way of favour with them).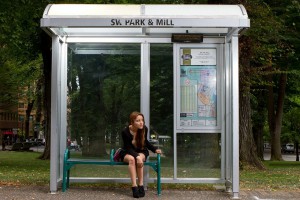 My practice is more akin to waiting for a bus than anything magical.
What's (not) going on?
A few weeks ago, I took part in a weekend retreat delivered by the Mindfulness Association called The Compassionate Warrior. In a guided visualisation practice we were taken through I was greeted by a slim figure who all but dismissed me as I threw down my black rucksack into a corner full of dozens of other black rucksacks. The figure spoke: "oh, you'll be back again; its no big deal" and continued working, ignoring me.
There's something here which goes to the very nub, the very centre of things for me. The baggage that we carry-the shadow side of us-we keep collecting it, we work to let it go and yet it keeps returning; but we can also move from a place where it's a huge drama to one where it's no big deal. The path, then, is the practice itself. Perhaps this is what Jon Kabat-Zinn meant when he talked about mindfulness practice as "bucketing out the pond"[2]
On the other hand…
Yesterday was a practice day, and I had the privilege of spending the day sitting, reflecting and walking on the beach. Last night I had-I can't recall any details-frightening visions that (apparently!) had me twitching in the bed. I have no clear recollection of these guests in the guest house[3] yet my reflections are that it could-just could be-that when nothing's happening, something really important is happening, we just have to be patient and trust that something will emerge, like a lotus flowering out the mud.
How do I know that I'm not just spiritually bypassing here? That's a really important question. What is "spiritually bypassing"? John Welwood, talking to Tina Fossella[4] describes it as "a widespread tendency to use spiritual ideas and practices to sidestep or avoid facing unresolved emotional issues, psychological wounds, and unfinished developmental tasks."  In other words, we turn away or numb out from our wounds and bliss out a bit, then a bit more.
It's here where we-I-probably need to be aware that as well as mindfulness practices, psychological practices, or developmental practices need taking on board, too. If, in my mindfulness practice I am trying to find ways to wake up, then it might be best accompanied by ways to grow up[5]. This accords with Maria Calpan's thinking, where we have to cultivate discernment[6] on the path.
Okay, when we open this up, there's quite a lot here for "nothing happening" to be full of "happening".
Urghh! It's a bit messy and contradictory!
My take on this is that when there is nothing happening, it's no big deal, but if we stay close to our experience, no big deal might turn out to be a very big deal indeed!
As always in mindfulness, the path is the practice we return to.
[1] https://www.abdn.ac.uk/study/postgraduate-taught/degree-programmes/946/studies-in-mindfulness/
[2] Jon Kabat-Zinn Wherever You Go, Here You Are
[3] http://www.sagemindfulness.com/blog/rumi-s-poem-the-guest-house
[4] Google On Spiritual Bypassing, Relationship, and the Dharma
[5] http://integral-life-home.s3.amazonaws.com/Wilber-WakeUpGrowUp-TheEdgeOfTheUnknown.pdf
[6] https://www.amazon.co.uk/Eyes-Wide-Open-Cultivating-Discernment/dp/1591797322/ref=pd_lutyp_cxhsh_1_7?_encoding=UTF8&pd_rd_i=1591797322&pd_rd_r=c43454a2-bd34-46d9-9e8d-c524d20516a3&pd_rd_w=EYqw2&pd_rd_wg=Ht3q7&psc=1&refRID=RB95SSRNZSM23D7FZ5A4